Springboard results
Both programmes are tailored and regularly updated to meet current organisational needs so participants achieve their optimum blend of personal and work results.
Typical results from line manager evaluations
Following the programme partipants:-
Deal better with change
Are more realistic about their self-assessment
Have more self confidence
Set and achieve clearer goals
Have increased personal motivation
Accept more responsibility for their development
Have a more mature and positive attitude
Communicate more assertively and effectively
Add more value to their work
Improve customer relations
Present a positive image
SPRINGBOARD
Immediate results
Improved effectiveness at work

84%

More confidence at work

86%

Take more responsibility

93%

Longer term
Increased confidence

83%

Taking more initiative

78%

Improved relationships

75%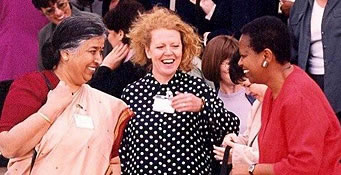 Participants view of the results
We have an abundance of evaluation evidence, gathered from a wealth of organisations over many years. Here is just a flavour of the fantastic results you can expect.
84% of Springboard participants say they are 'more open to change' since attending the Springboard Women's Development Programme.
83% say they have 'a more positive attitude'.
80% say they have 'increased confidence/self esteem'.
79% say they are 'better at managing change'.
78% have 'taken on more responsibility'.
75% say they can provide evidence that they are 'better at problem solving' now and 67% can provide evidence that they are making a 'better use of resources'.